Susanna DeRocco
Both Melanie and I spend a good amount of time helping  people incorporate healthy foods into their busy lifestyles. If you have children or regularly spend time around children, you know that the assortment of foods designed specifically to entice them can also be giant, tempting stumbling blocks for us.  Honestly, how many times have we sabotaged our nutritional goals by dipping into something that we have purchased specifically for our children? I know I can think of a few!
What we feed our children is equally, if not more important, than what we feed ourselves. So important, in fact, that I am going to replace the word 'feed' with the word 'nourish' because I believe there is a big distinction between those two words.  It may sound corny, but think about what we are trying to do.  When we nourish ourselves with food we are caring for oursevles by fueling our bodies for energy and strength.  The most nourishing foods come from whole and natural sources.  As Fit Mom's, we work incredibly hard to  incorporate these foods into our lives; we are role-modeling these behaviors for our children!  So, why on earth are we purchasing different foods for them?!?!  Their young bodies and brains are still developing and need the nutrients provided by eating a variety of whole foods for fuel, not an onslaught of  'things that cannot be pronounced'.  Most of these highly processed foods ultimately leave our kids unsatisfied and hungry for something else.  Frankly, some of them may even be harmful.  The last time my kids asked me for tertiary butylhydroquinone (TBHQ) was…ummm…yeah, never.
Even when our children are active and need to eat highly caloric meals, what goes into their bodies should be supporting their activity and replenishing those energy stores ; what goes into their bodies should most certainly be recognizable.  Our bodies don't recognize highly processed foods that contain hydrogenated oils, additives, preservatives and dyes. Having a few of these things on occasion is fine–believe me, my kids get their fair share–but our bodies are not designed to process large amounts of these things.  What holds true for us, holds true for our (often) smaller counterparts; a little here and a little there quickly adds up.
So, what can you do?  I am not going to delve into all of the challenges we might face in this article–I could write a book!  But you can absolutely begin at home and snacks seem to be one of the biggest culprits.  Start with some
label-reading basics
.  Depending on the their age,
why not decide together on one of the processed items you could eliminate from your cabinets and work together to find an alternative?
I know, I know–sometimes there just isn't a good alternative–this is where you can
work together to find a compromise
. 
Make small, incremental changes
and
build your repertoire of recipes slowly
.  Let the kids select recipes, create their own recipes, customize for taste, help stir, mix, chop, pour–even put together and decorate a 'snack' binder.  Creating their own resource and eventually using it to make something on their own is very empowering!  For older kids (honestly, my kids would
not
be excited to decorate a snack binder) try making a snack/meal into an "Iron Chef" or "Top Chef" experience.  On a weekend when you have time, try encouraging them to make something for friends or family or have them create something by utilizing a "special ingredient".   The sense of pride they feel when they present their creations can definitely boost interest and confidence!  One morning my 12-year-old son and three of his friends all made their own version of  "scrambled eggs" and sampled each other's creations.  Getting kids engaged and involved definitely makes a difference.
Okay, back to you.  If it's the sweets you find tempting, consider getting the culprits out of the house. Take the kids out for a treat instead of having it at home.  Or make some home-made desserts (like some of the items below). Create a new dessert expectation by including things like fresh strawberries, watermelon, and applesauce on the 'dessert menu'.   My kids are no different than yours; they love ice-cream, cookies, & brownies.  But when I buy a watermelon very early in the season or strawberries when they haven't had them in a few months, or freeze bananas and make them into 'soft-serve', they are excited to have these things, as well.  The other types of desserts will be enjoyed more if they are not offered or expected all of the time.
To help you and your kids on your journey toward eating more whole -foods, we have provided some snack ideas that can also double as quick breakfasts.   Children (yes, even teens) are naturally curious and are more likely to eat what they have had a hand in creating. Try some of the recipes below, but be flexible.  Experiment!  Let your child help with the recipe and come up with substitutions, if necessary (strawberries instead of raspberries in the smoothie, for example).
Do you have a healthy breakfast, snack or dessert that goes over well in your house?  We would love to hear about it!
Power Smoothie (breakfast = 1 serving or snack)

This smoothie packs a lot for you and your kids in one glass!  For the record, the spinach is undetectable. After they have enjoyed a few, see if they can detect the 'secret ingredient'!
1 cup water
1 banana
1 cup raspberries (frozen) or mixed berries (frozen)
1T almond butter
1T flax seed/meal
1/4 cup spinach
Blend together and enjoy!

Breakfast Sweet Potato Pudding (from pcrm.org)- (breakfast, snack or dessert)
This is a quick and nutritious breakfast or snack that is high in fiber to help keep you full throughout the morning.
(makes 3, 1/2 cup servings)
1/3 c rolled oats
1/2 c milk
1 c cooked sweet potato
1 T real maple syrup
1/2 tsp cinnamom
Combine all ingredients in blender and blend until smooth and refrigerate. My kids ask for this "dessert pudding"after dinner!
Frozen Banana Bites (snack or dessert)
Cut ripe bananas in one inch chunks
Put into zip lock bag with enough orange juice (not from concentrate)to coat them (about 1/4 cup)
Shake to coat and pour off excess juice
Lay flat to freeze (they will have texture of ice cream)
Muffin Tin Breakfast Bars (recipe/photo courtesy of Snack-Girl.com)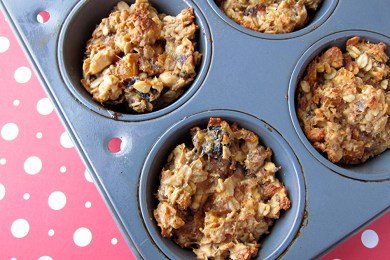 1/2 cup peanut butter or other nut butter
2 bananas, mashed
1/2 cup whole nuts (choose your favorite)
1 ½ cup total of dried fruits (cherries, cranberries, apricots, raisins, coconut, etc.)
1 cup rolled oats
1 tsp vanilla (optional)
Pinch cinnamon (optional)
1/4 cup pumpkin or sunflower seeds (optional)
Preheat oven to 350 F. In a food processor, coarsely chop nuts and dried fruits. Mix nut butter and bananas until a paste forms. Add the rest of the ingredients and mix. Spoon into lightly greased muffin cups and bake for 15 minutes. Can be stored in refrigerator for 5 days.
Banana Popsicles (breakfast, snack or dessert)
Cut bananas in half and place on popsicle sticks
Freeze or chill if desired (helps the yogurt to adhere to the banana)
Dip bananas in yogurt, peanut butter, almond butter, dark chocolate (for a more decadent dessert) or even the mix below (see Peanut Butter Dippers)
Roll banana in toppings like low-sugar, high-fiber cereals, (I like Nature's Path Heritage Flakes and Optimum Slim Vanilla) unsweetened coconut flakes, sunflower seeds, home-made or Bare Naked Fit granola, ground nuts, etc.
Freeze-again or enjoy as is!
Peanut Butter Dippers (snack)-perfect for after school
1/2 c vanilla Greek yogurt
1/2 c peanut butter or PB2 for less fat and calories
1/4 tsp cinnamon
Mix together in a small bowl. Use dip with banana chunks, apples, carrots or celery
Fruit Kabobs-(breakfast or snack)
Thread any fruit on plastic toothpick or wooden kabob skewers. Dip into low fat vanilla greek yogurt or the peanut butter dip above. It's just more fun to eat fruit on a kabob!!
Finally, for a more involved make-ahead breakfast, lunch or snack try these: Don't like zucchini? Substitute chopped spinach? Not a fan of mushrooms? Add sundried tomatoes.  Not a fan of Gruyere?  Try Feta cheese. Frittatas are great for using up any vegetables that are headed for the compost heap!
Muffin-tin Frittatas (courtesy of Martha Stewart)

4 to 6 white mushrooms
1 red bell pepper
1 yellow bell pepper
16 large eggs
2 teaspoons salt
3/4 teaspoon freshly ground black pepper
1 tablespoon chopped chives
1/2 cup finely grated Gruyere or fontina cheese
Olive-oil cooking spray
Lightly spray two 24-mini-muffin tins. Slice zucchini into 1/8-inch rounds. Slice mushrooms lengthwise into 1/8-inch pieces. Core and seed red and yellow bell peppers. Chop into 1/8-inch dice, and set aside.
Preheat oven to 400 degrees. In a large mixing bowl, whisk eggs, salt, pepper, and chives, and set aside. Arrange cut zucchini, mushrooms, and peppers in each muffin tin. Ladle egg mixture into each tin, just even with the rim, and sprinkle with cheese.
Transfer to oven, and bake until frittatas are set, 8 to 10 minutes. Serve warm, or at room temperature.
Remember, what's good for the goose, is good for the gander!