Susanna DeRocco
A common want-to-pull-my-hair-out complaint that I hear from people about dinner time is that there are only a handful of meals that everyone likes and eats together. While jelly beans, popcorn and toast may not be our ideal, cooking one meal is; deconstructing them is one way of getting there.  These ideas are not ground-breaking, but they may help you get through a busy week. These meals allow everyone to customize their own plates and participate in the same meal time, even though plates may look decidedly different. Below are four examples of meals that are simple and relatively quick (if you have done a bit of preparation and some planning) to put together. Your family can deconstruct and reconstruct as desired!
Baked Potato/Sweet Potato Bar: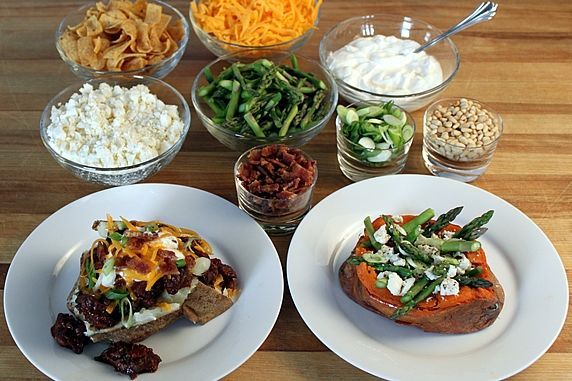 The combinations of toppings here are virtually endless–I recently had BBQ sauce, caramelized onions and lentils in a baked sweet potato and it was delish!  Here are some great ideas for a baked potato bar and a sweet potato bar!  Take your potatoes in a broccoli/cheese direction, top with frozen peas (defrost first!) and Parmesan, spice it up with a Mexican theme, enjoy with lentils & caramelized onions or with leftover chili.  You can bake the potatoes ahead for the week or make them in your crock pot via the recipe below:
Crock Pot Baked Potatoes
Wash potatoes (sweet or russet) thoroughly and poke some holes in them with a fork/knife.  Wrap in foil and place in the crock pot.  Cook on high for 3 to 4 hours or until potatoes are soft on the inside.  Cook up to 10 potatoes in a 6qt. slow cooker.
Make-Your-Own-Sandwich night:
Feeling bad about sandwiches for dinner? Well, don't.  Sandwiches  are a great option for a busy night; they can be planned ahead or eaten on a whim.  The 'make-your-own' is the best part.  Does your youngest want a nut-butter and banana sandwich?  Great!  Go for it!  Your oldest wants to use up leftover chicken? Wonderful!  What? Someone wants pizza but you only have an English muffin, some jarred tomato sauce and a cheese stick? Have at it!  Are you downright dog-tired and just want some avocado on toast? Brilliant!  Bring it! You just have to make sure you have a few staples in the house to make this night come together. After sandwiches have been created, have everyone pick their own fruit and sit down together to enjoy your sandwiches. It is only one meal, two if they have had a sandwich for lunch, so don't sweat it.  Sandwich night. That is all.
Eggs:
Eggs are an easy way to get a quick meal on the table! They make a pretty regular appearance at our dinner table in a variety of forms (frittata, hard-boiled, fried, over easy, scrambled).  Nourish Schools provided this recent run-down (dare I say it was egg-cellent?),which I could not have said better!
Taco Night:
Create a do-it-yourself taco bar.  Employ your kids to chop vegetables, shred cheese, get out bowls, heat up tortillas in the microwave, etc.  This is great for families that have meat and non-meat eaters (same goes for dairy).  You can eat the vegetables over salad, as a rice bowl, or in a tortilla/taco shell.  It is also great if you have any leftover grains like brown rice, quinoa or polenta or grilled vegetables to use up!  Plan ahead and make a double batch! The quick lentil recipe below makes a nice change if you are trying to cut back on animal protein (or on your grocery bill).  Some options are (you do not have to make all of these!):
Whole wheat tortillas (optional)
Taco shells
Ground turkey (using spice blend from lentil recipe below), leftover grilled chicken or grilled shrimp
Chopped greens like Romaine or spinach or a combination
Chopped red cabbage
Black beans (or any canned beans) or crock pot refried beans
Green or red jarred salsa (or fresh if you like)
Leftover brown rice (or other grain like quinoa)
Cut-up avocado
Lime, cilantro, garlic (I like to chop the garlic & cilantro and add a half of a lime to the avocado)
Greek yogurt
Grated Monterey Jack cheese
grilled vegetables (peppers, mushroom and onion)
sliced banana or jalapeno peppers or chilis
corn (fresh or frozen)
sliced scallions
sliced black olives
diced tomatoes
diced raw onion
crushed baked tortilla chips
Taco-seasoned Lentils
1 1/4 cups brown or green lentils (8 ounces)
2 tablespoons tomato paste
1 tablespoon chili powder
1/2 tablespoon ground cumin
1 teaspoon paprika
1/2 teaspoon garlic powder
1/2 teaspoon onion powder
1/2 teaspoon dried oregano
1/2 teaspoon sea salt (or more to taste)
1/2 teaspoons black pepper
Pinch crushed red pepper flakes (or none for sensitive palates)
In a medium saucepan, bring 1 3/4 cups water to a boil . Once boiling, add lentils, cover, and reduce heat. Simmer covered for about 20 to 25 minutes, until most of the water has been absorbed.
Turn off the heat, then stir in tomato paste, chili powder, cumin, paprika, garlic powder, onion powder, oregano, salt (or not), black pepper, and a pinch of crushed red pepper flakes.
What are some meals that help you satisfy all kinds of eaters?  We would love to hear your ideas!